Unitex LT70H2 USB / SAS Hybrid LTO7 Tape Drive System, LTFS
Buy with confidence – we're an authorized Unitex distributor in North and South Americas. Ships directly from Columbus, Ohio. 
 Features
The world's only USB interface LTO drive that saves data to LTO by simply connecting to a notebook PC or other USB devices

USB LTO drive size: 21 (W) x 37 (L) x 6 (H) cm, 4.5 kg
Direct connection to USB Type-C and Thunderbolt3 PCs


*LTO [Linear Tape-Open]: International standard magnetic tape media
The latest media features a maximum capacity of 45TB per piece, low cost, durability of more than 30 years, safety by off-line management, and reduced environmental impact.
Easy to use without IT knowledge
Data can be copied by drag & drop to LTO via USB connection
High-speed data transfer enables stress-free storage of large amounts of data
USB interface with high-speed data transfer of 300MB/s
Our unique technology achieves both stable operation and high-speed data transfer.
Protect your data safely and securely from ransomware and other cyber attacks
Offline management of data stored in LTO by disconnecting it from the network (air gap deployment)
Combination with our archiving software, data falsification prevention, and LTFS encryption support for even more secure data protection
Realizing both "high capacity data storage" and "significant reduction in CO2
 

emissions"
Compared to the conventional hard disk storage, LTO tape storage generates only about 4% to 10%(*) of CO2

 

emissions for the same amount of data
(*)JEITA Tape Storage Technical Committee
 

Other features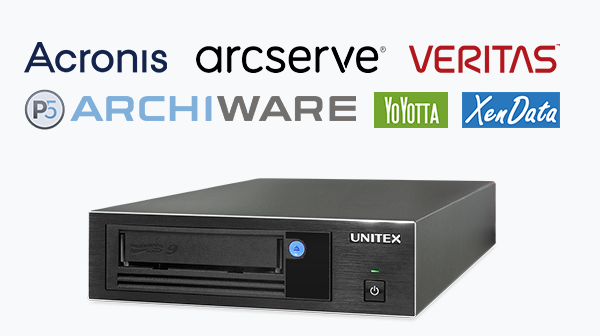 * picture of the LTO9 drive is for reference only.
USB/SAS hybrid model is switchable between USB 3.0 and SAS interface according to the usage
USB cable clamp prevents unexpected cable disconnection
USB plug-and-play connection enables connection and disconnection without stopping the server, making sharing and maintenance work easy on multiple servers
Equipped with the latest USB board
Support Windows, Mac and Linux
Support the world's leading products of backup software


Comes with UNITEX LTFS3000 software with either a Windows or a Mac version.
When purchasing, please specify which one you need.