UNITEX FASTapeLT for Windows
UNITEX FASTapeLT for Windows
Support simultaneous copy to multiple LTO tapes
Secure your data copy by automatic verify function
 

Features
Provides high-speed copy of large amounts of data such
as video data to LTO tape
Sequential job execution with simple operation
Simultaneous copy to maximum 4 media
High-speed copy by UNITEX unique algorithm
Confirm the exact match of copy data
by Automatic verify function
LTO replication function
Job history management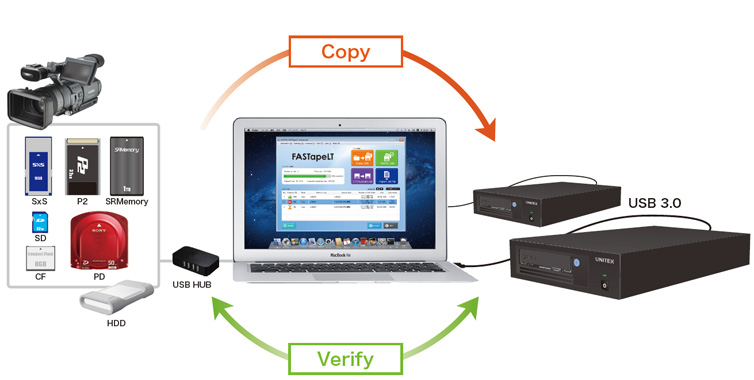 Confirm the exact match of copy data by Automatic verify function
Enables selection from three verify modes per job
All file data + All file names/sizes
Some file data + All file names/sizes
All file names/sizes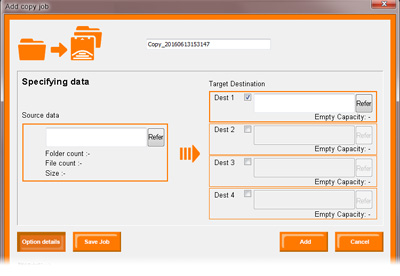 Simultaneous copy to maximum 4 media
You can make simultaneous copy up to 4 destinations. Enables any combination of LTOs and HDDs.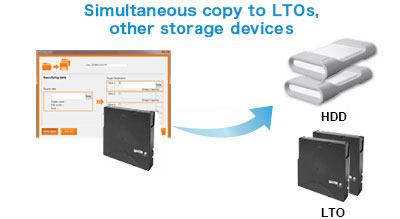 Parallel job execution
Enables parallel job execution by starting multiple GUIs. Parallel execution is possible even with LTO tape device if each job is an input/output to a different LTO tape device.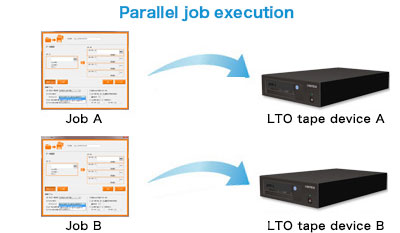 LTO replication function
Enables to duplicate an existing LTFS format tape and create the exact same backup. Enables to manage the original tape and the replicated one.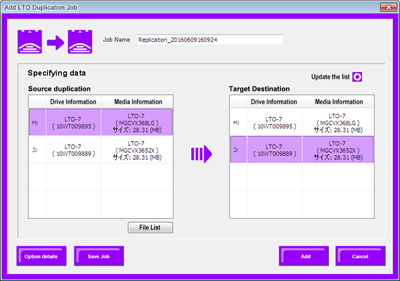 Job history management
Enables search for job execution history and confirmation of the detailed job result.
Enables to check not only job result but also copy/verify result per file/folder at Job history management window.
It is possible to use for confirmation of file consistency by checking MD hush value.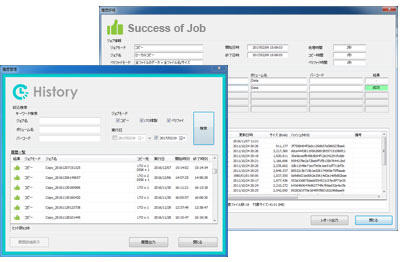 Report of copy/verify result
Output the result of copy/verify as a report
In the report, not only information of the copy source and the copy destination but also the result of copy/verify and error information are recorded.
Each item of a report is as follows;

[Job information]


Job mode, Job name, and Verify mode are recorded.



[Job result]


Job result is recorded.



[Job details]


Copy, replication, verify source (or destination) information,




and file/folder information are recorded.



[Processing time]


Records the start/end date&time of the job, and the




processing time.



[A list of processing result]


Processing result per file/folder of target data, size, hash value,




item name are recorded.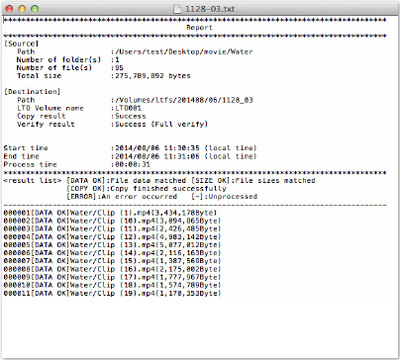 Encryption option using the hardware encryption feature of the LTO drive
Hardware encryption function enables input/output of high-speed LTO tapes without slowing down the transfer rate.
Decryption is possible without using Unitex's software since the encryption is not by Unitex's unique algorithm.


*The LTFS encryption option license of "UNITEX FASTapeLT for Windows" is required to use the LTFS encryption function.